A stay at Holiday Homes Ruigenhoek is a guarantee for ultimate relaxation. With fire places to sit next to and your very own jacuzzi and wood burning sauna in the backyard, this luxurious and cosy holiday rental is the place to be for spa lovers.

A holiday at Holland's coast
My work for the tourism industry takes me to the best places! And not just virtually. After my delivery of Holiday Home Ruigenhoek's website translation, the owners – Marieke Smit and Jan van der Zwet – invited me for a stay at one of their holiday homes. The blooming season in Holland's flower region 'de Bollenstreek' had just started and I have always wanted to see the blooming bulb fields, just south of Amsterdam, so I didn't need much time to consider and off I went.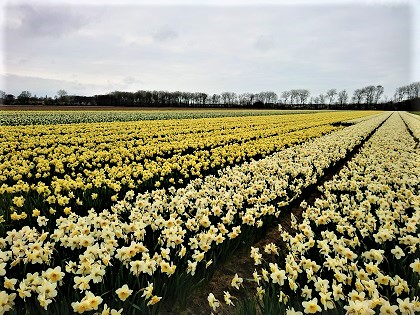 Bulb region
Holiday Homes Ruigenhoek is only a stone's throw away from the Keukenhof, also known as the Garden of Europe. It's one of the world's largest flower gardens. However, also outside the Keukenhof you can enjoy tapestries of colourful flower fields. At the time of my visit, the bright yellow, blue and pink coloured fields of blooming daffodils and hyacinths were a feast for the eyes!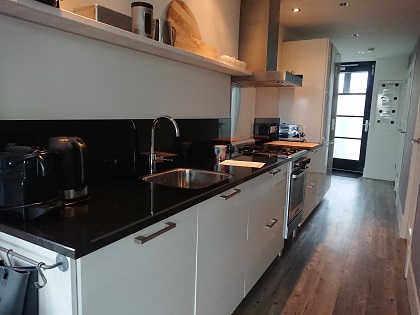 Holiday Homes Ruigenhoek
On my arrival there's a bouquet of daffodils on the dining table, together with my favourite typical Dutch sweet in a tin: 'stroopwafels'! What a lovely welcome. This holiday home has got luxurious facilities both outside and inside the house. There is a well-equipped kitchen with oven, large fridge, dish washer, and a Nespresso coffee machine (with plenty of cups), a nice and spacious bathroom with walk-in shower and a washing machine and dryer. Both of the bedrooms have electronically operated skylights with black-out blinds, which really makes me happy! ;-) To those who prefer romantic stargazing: leave it open! I don't go out dining that first night, but instead cook myself a meal, light the candles and the wood burner – there is a large stock of logs ready for use – and snuggle on the couch with my book , enjoying the warmth and crackling sounds of the cosy fire.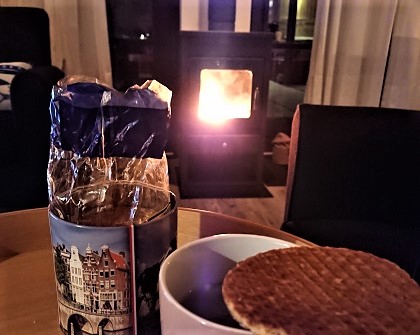 Bubbling
Marieke told me that the jacuzzi is a must do and ready for use, whenever I like. That doesn't need much more encouragement… Both the wood burning sauna and the jacuzzi are in the cottage's back yard and after a good night's sleep I decide it's a fantastic way to start a new day: relaxation in optima forma. And look at the view!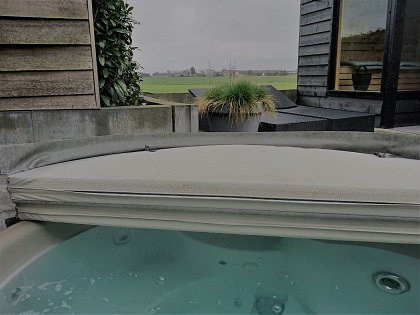 Beach life
After this relaxing experience in the hot tub, I head, for some more indulgence, to the beach at Langevelderslag, about a five minutes' drive from holiday home Ruigenhoek. Upon my departure, Marieke tips me where I can best find enchanting flower bulb fields, while on my way to the beach. That's much appreciated, for I never would have found that beautiful spot by myself!
There's only paid parking at Langevelderslag's beach, but the costs are reasonable and there is ample space. The sandy beach seems endless and is nice and broad, without any horizon pollution. After a few hours of fresh air, I treat myself to a nice refreshment at beachclub Nederzandt, situated next to the beach entrance.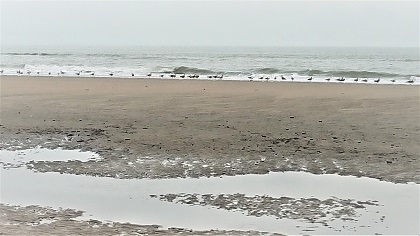 Wining and dining
Back at Holiday Homes Ruigenhoek I get on the couch to browse the provided tourist information leaflets, with plenty of tips on what to see and do in the surrounding area, including the best places for dining. My eye is caught by a leaflet from 'Winter Lodge' in the seaside town of Noordwijk. Don't get as confused as me; you see, this restaurant is also known as the Branding Beach Club (or 'the Branding' for short) . It's located on the Koningin Astrid Boulevard in Noordwijk, less than a twenty minutes' drive from holiday homes Ruigenhoek. It appears to be a lovely place, in a greenhouse, with olive trees! They offer a varied menu (including vegan dishes) and play nice lounge music. Luckily I had made reservations, because even on a weekday evening they are packed.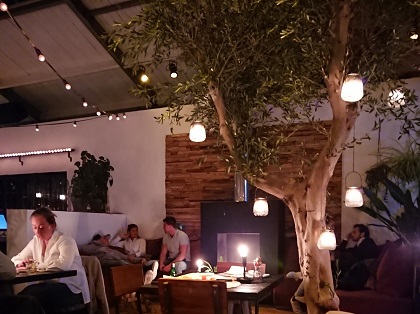 Holland's cities
After having said good bye to Marieke (on last photo), I'm on my way for a day trip to Amsterdam, which is only a thirty-five minutes' drive from De Zilk. There is so much to explore in this area – the cities of Haarlem, Leiden and The Hague are in the vicinity too – that I hope to return soon. And I'll then make sure to plan a full day of bubbling amongst the bulb fields! After all, where else can you find your very own sauna and jacuzzi in your holiday home's back yard?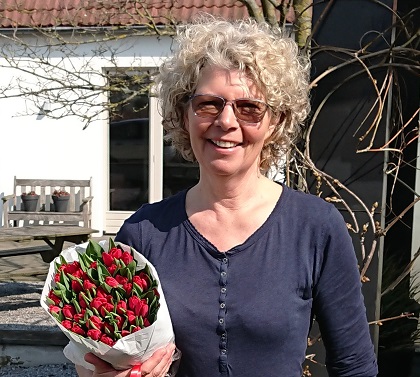 Tips
Make your spa holiday complete and book a massage on location!

Next to the holiday home that sleeps 4, there is a luxurious large holiday home that sleeps 12 too. For more information, please visit Vakantiehuizen Ruigenhoek's website.

Via this link you can order a free guide, including tips and activities in the Bollenstreek area.

Many thanks for a fantastic stay, Marieke and Jan!


© Els van de Weg, June 2019