On Saturday 12 November I visited the festive opening of the art exhibition 'VROUWenKUNDE' at Ipomal Gallery in Landgraaf.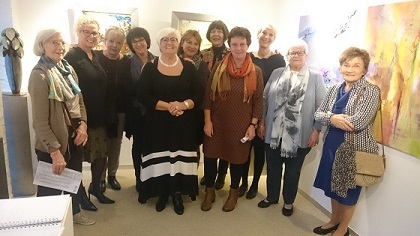 VROUWenKUNDE
The exhibition VROUWenKUNDE is the third of a series of exhibitions in which artwork of ten female artists is showcased, showing a variety of art disciplines. To me it was surprising to discover that quite a number of the participating artists practise a variety of art disciplines, and combining them results in awesome creations, like Lily Scheffer's work, who is exhibiting for the first time at Ipomal.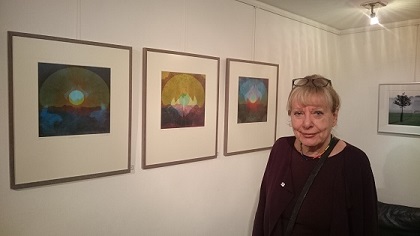 Graphic Arts
Lilly Scheffer started her career in the art world as a journalist at the art editorial department of the 'Limburgs Dagblad' newspaper, where journalistic photography became more and more a substantial aspect of her work, which then gradually developed into artistic photography and art graphics. Her own photographic work is the foundation for her abstract creations and it is the combination of both disciplines which captures the imagination. I was intrigued by her work, however there was still so much more to discover!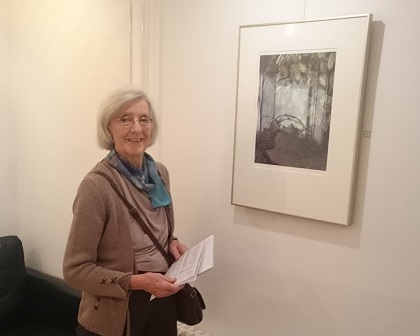 Like Nelly van den Boom's graphics. She is autodidact in several disciplines, not only in different kind of graphics, but also in sculpturing and painting. Her showcased photographic work is very colourful and reflects Nelly's love for nature. Her recent award-winning artwork is shown on this exhibition as well.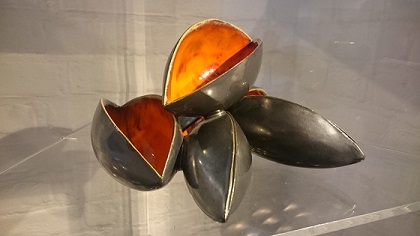 Ceramics
Also inspired by nature are Lucie Berben's delightful artpieces: bright colours and straight lines based on natural forms. The photos speak for themselves. Lucie's work is delightful and gives the viewer a feeling of peace. Is that because of the repetitive rhythm in her artwork?
Carry Bakker is both a ceramist and sculptor, whose work is inspired by nature too, however her artwork, again, is completely different, and precisely that variety in expressions is what makes this exhibition so exciting.
From Dutch ceramist Hélène van Dongen - who works and lives in France - I receive her latest art book, 'Raku Sculptures' published in three languages and hot off the press! It tells her personal story and includes lots of photos of her beautiful artwork. She explains me all about the Raku baking process and how much her work is based on showing contradictions - yin and yang, dark and light, black and white – and how the contradictions create a balance. Seeing her creations, it is more than obvious.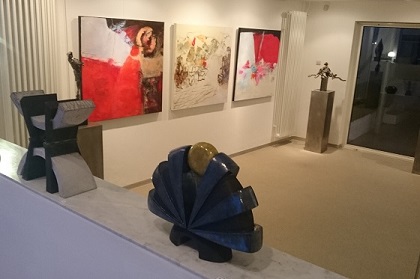 House Gallery
Ineke Paliska started running her house gallery and art lease in 1991 and for the last 15 years on the current location. The house dates from 1917 and is beautifully renovated and extended. There is a spacious entrance from where you enter the exhibition room at the front. From here two corridors lead you to other exhibition spaces in the centre and the back of the house. It feels like if the curving walls pull you further into the building, each curve revealing new masterpieces.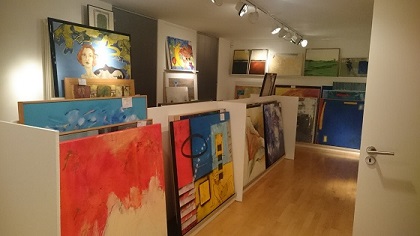 Art Lease
Gallery owner Ineke Paliska has been running one (out of a total of six) of Maastricht's Bonnefantenmuseum's art lease depots since 2010. Its collection includes mostly paintings and a number of sculptures and ceramics. You can also rent Doortje Kockelkorn's work, whose large, colourful and expressive paintings are part of the VROUWenKUNDE exhibition too.
Ineke maintains long lasting relationships with the artists exhibiting at Ipomal. Most of the currently exhibiting artists took part in the other two exhibitions dedicated to female artists, too. Hélène van Dongen and Nicole Hardy have cooperated with Ipomal Gallery for over 25 years in both solo and group exhibitions.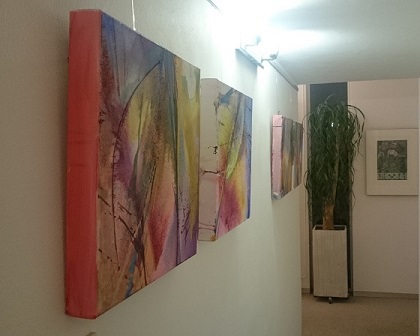 Euregion
It is great how Ipomal Gallery offers a stage to artists in the Euregion. The VROUWenWERK exhibition showcases art work from Monika Jonas-Sunder and Renate Müller Drehsen, both German contemporary fine art painters. Monika has been an active and independent artist in the Euregion for 20 years. She has initiated many art projects and took part in many exhibitions. She tells me that her creations are 'lyrical expressions in colours'.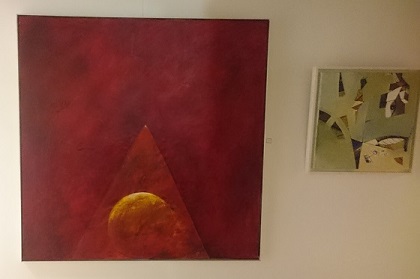 Renate Müller Drehsen passes on her talent to younger generations by teaching art classes at the Rhein-Maas-Gymnasium in Aix-de-Chapelle (Aachen). She creates large art pieces in which form and colour play an important role, but enjoys creating a small sized artwork just as much. A good example on this exhibition is 'Kleidchen', an artwork of paint on paper with a handwritten text in the background, inspired by the fairy-tale 'The emperor's new clothes'. Telling me about it, her face expresses how much she has enjoyed creating it.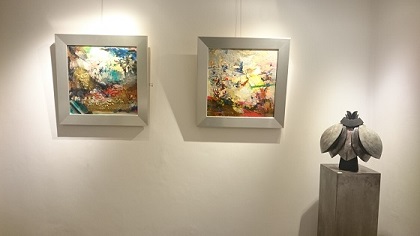 Fine Art Painting
Next to the German artists that I just mentioned, and the Limburg fine art painter Doortje Kockelkorn, there are two more Dutch painters taking part in this exhibition. Make sure not to miss Nicole Hardy's colourful, abstract acrylic paintings. As chairman of 4ArtAlways, Nicole puts her best foot forward for idealistic art.
And last but certainly not least, there is Nicole Peters, who believes that 'anyone taking in art and enjoying it' is just as much of an artist as she is. Her work intrigues me because there is so much to see. She likes creating collages, using different techniques, mostly on paper.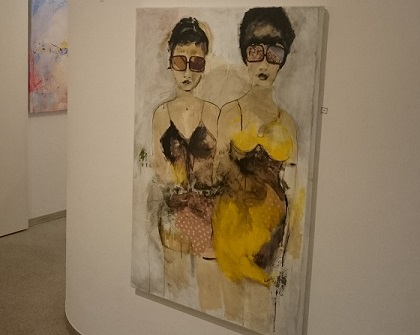 Viewing art
Unfortunately it is impossible to give each participating artist in this blog post, the attention she deserves, but I hope my readers will regard my blog post as an invitation to come and visit Ipomal Gallery to discover all these beautiful creations themselves. This exhibition will last until Sunday 17th December. Ipomal Gallery is open on weekends and by appointment. For opening-times please visit Ipomal's website:
www.ipomal-galerie.nl
Follow me on
Facebook
and
Instagram
for more photo impressions!
Ineke, I would love to return on a warm summer day to admire Ipomal's art garden too!
© Els van de Weg, December 2017