Did you ever picture yourself the winner of a getaway weekend at a 5 star chateau hotel? I did!
I recently participated in a Call to Action on Twitter. All it took was a retweet (RT) of a message with attached promo film of this luxury resort. Two days later they selected a winner - not me unfortunately. However, there certainly was more than one winner as the message had been retweeted 755 times! A wonderful example of successful use of social media in the hospitality industry.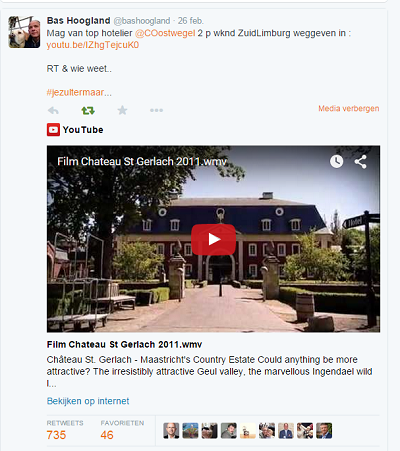 Although people tend to react more often when there's a benefit to it, promos can be successful even without giveaways. Social media can also be very useful promoting special offers or sharing news facts like: 'We welcomed The Rolling Stones as our guests today' or 'Chef Jamie Oliver just opened a new venue in London'. If you have no celebrities among your guests you can also make your posts more appealing by adding a photo or film; visual content is a guaranteed winner.
You will attract more visitors to your website by adding a link to your Facebook posts and Tweets. Rather than developing the habit of always linking your home page, try linking the landing page that best suits the content of your message. Have a chat with your fellow Tweeps and discover that this also can be fun, and creating a larger audience by doing so, it eventually will be a win-win for all participating.
The number of followers influences the reach of your messages of course. Therefore the chateau hotel in my example approached a third party and had Bas Hoogland - former director at Landal Green Parks and with over 19.000 (19,2K) followers immensely popular on Twitter -, to initiate the promo action. Of course it is important to attract someone who matches your target group.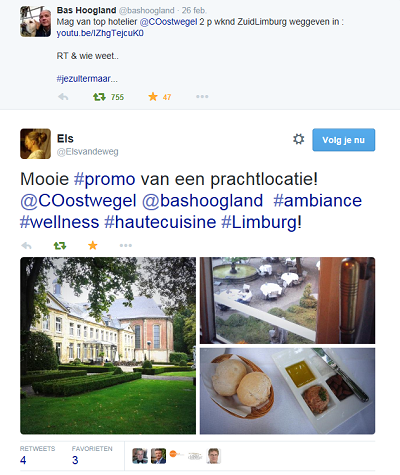 Blogs are hot and a wonderful marketing tool too. You can write your posts yourself or hire a ghost writer to do it for you. Consider having your website and blog translated if foreign visitors are among your target group. Naturally the links on your blog will take them to the translated web pages! :-)
I check my website statistics on a daily base and the numbers prove that activity on my social media accounts directly affects the traffic to my website. A little while ago it happened that I missed out on the social media for almost a week and the traffic to my website dropped significantly. It inspired me to write this blog post, hoping to convince other entrepreneurs of the benefits of online marketing. In the mean time I am more than curious how my blog will affect my website's statistics. ;-) Results can be measured quickly and easily and that also makes online marketing fun!
© Els van de Weg, August 2015