ART OF ALL TIMES
A 13th century baroque church with beautifully renovated frescoes and a variety of fine art showcased in its treasury and cloister. The KiV Art Exhibition, in the town of Valkenburg, is a unique cultural event, where art of all times comes together.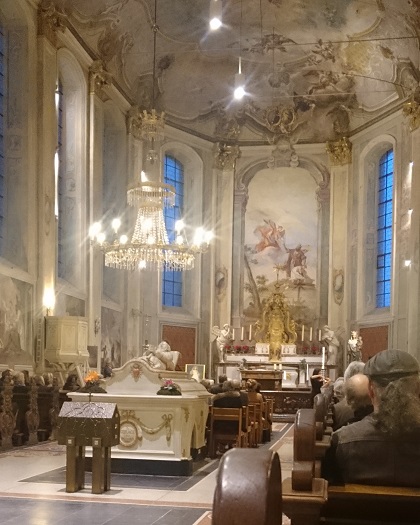 Grand Opening
It's bitterly cold in the church of St. Gerlachus during the opening of the KiV (Kunst in Valkenburg) Art Exhibition. It doesn't have any effect on me though. My attention is captured by the beautifully frescoed ceilings and walls of this 13th century monumental church on the Château St. Gerlach estate. In the meantime, I listen to John Marx's opening speech and to Jan Schrijen, mayor of the town of Valkenburg, who is cheerful about the fact that the presence of art in public spaces has increased. Last, but certainly not least, I enjoy the beautiful violin intermezzos. What an inspiring kick off!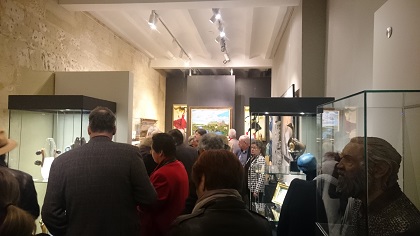 KiV Inside
It's Simone Meertens, of Visit Zuid-Limburg, who invited me to join her to this impressive private viewing. I visited KiV Outside at Château St. Gerlach's estate in previous years, but I never visited the indoor exhibition before. What makes KiV Inside so exclusive is its unique historic setting and the fact that next to sculptures, paintings and jewellery are showcased as well. After the official opening glasses are raised and I try to find my way through the large number of guests, gathering in front of the large variety of exhibited art works in the cloister and the church's treasury chamber.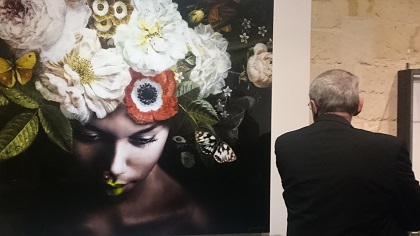 Meet the artists
Many participating artists are present at the opening too. Frank Marx introduces me to Dirk Bal, a successful painter from Rotterdam, who nowadays lives and works in the Zuid-Limburg region and whose beautiful diptych paintings 'Flora' and 'Fauna' are displayed. Erik Pluis, who is both a sculptor and a mixed media artist, shows me the effects of light fall on his intriguing sculpture Infinity, made of uranium glass. Upcoming talent Dawaa Molom proudly tells me it's her debut at 'Kunst in Valkenburg' and enthusiastically takes me outside, in the rain, to show me her ceramics. At the end of the evening I also run into sculptor Babke Moelee and her partner Frans van Straaten, who shows his good sense of humour while posing with his art work.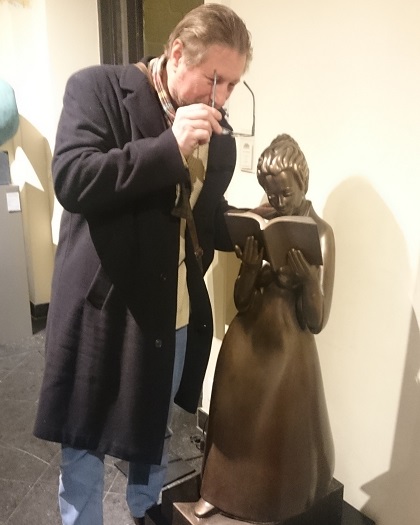 KiV Outside
It's said that art is nourishment for the soul and I decide to return for another visit soon, so that I can fully enjoy the exhibition at a quieter time. At the time that I step outside again it has gone dark already, so I will need to return to visit KiV Outside anyway. I am already looking forward to my next visit, which I plan to conclude with some bites and a nice drink on the château's inner court terrace. Such a treat!

During TEFAF
KiV opened to the public on the same day as The European Fine Art Fair (TEFAF), in the city of Maastricht, only a stone's throw away from Château St. Gerlach. This is not a coincidence of course. KiV is only one of the many events that take place during TEFAF. Many TEFAF-visitors stay longer than a day and may plan some cultural side trips in the area. The Tourist Board's website has reason to speak of TEFAF time on its special web page and on social media #duringTEFAF is a much-used hashtag. It has been for 11 years in a row now that John and Frank Marx (Marx & Marx Gallery) and Maurice Stassen (Giardino Gallery) grasp this wonderful opportunity with both hands. Hats off to them!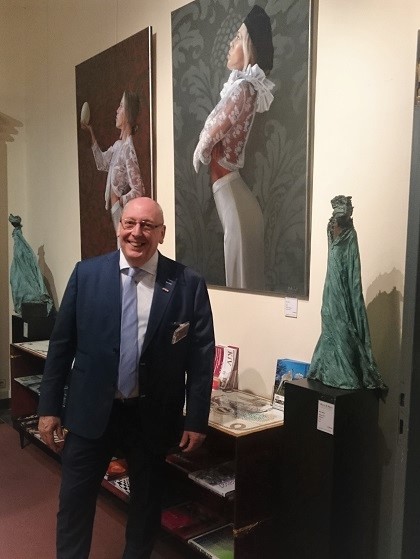 Tips:
Visit us on Facebook and Instagram for more photo impressions.

KiV Inside is open until March 25th, entrance fee €7,50
Online ticket sale (including a 10% reduction) via Tickli Ticketshop

KiV Outside is open until September 30th (free entrance).

Website KiV: www.kunstinvalkenburg.nl/en/
Website Giardino Gallery: www.giardinobeeldentuin.nl/en
Website Marx & Marx Gallery: www.marx-en-marx-kunst.nl
(Last photo: Frank Marx posing in front of Dirk Bal's paintings).


© Els van de Weg, March 2018