Her Facebook event 'The voyage on canvas' drew my attention. For my next blog post I interviewed Daniëlle Posthumus, owner of 'Atelier Daan', in Kerkrade, Zuid-Limburg.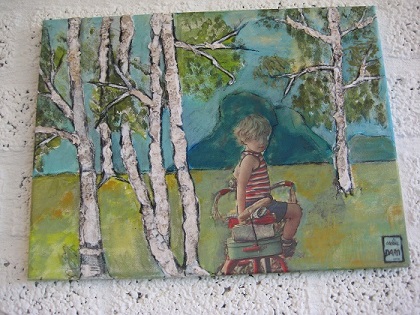 A discovery tour
When I arrive in Kerkrade, Daniëlle takes me with her to her studio – Atelier Daan – which is located on the first floor of what once used to be a school building. On our way up she tells me that about twenty artists have their working space in this old school building, and that they are all member of the 'Werkplaats K' art foundation. 'Atelier Daan', has got a pleasant ambiance, with lots of her own work on display. Daniëlle Posthumus is a fine art and make-up artist. Her work is characterized by the use of many different materials and techniques in each of her creations. She enthusiastically challenges her pupils to do the same and offers them a wide range of materials to work with: acrylic paint, spray paints, chalk sticks, charcoal, different kinds of paper and wall paper, and so on… Daniëlle's workshop surely is a discovery tour – a voyage on canvas!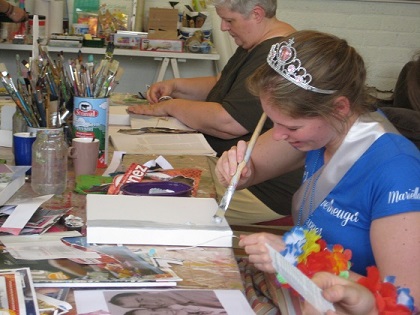 Group Visits
A workshop like this is a natural for a group of friends, a staff outing, or a children's party. However, you can enrol as an individual too. Today, a group of lady friends have chosen the workshop at Atelier Daan as part of their hen party! Two befriended German ladies have joined the workshop too. Danielle hasn't got any language barriers, everyone is welcome to participate! The German ladies soon have found inspiration in the many magazines that Daniëlle provides, and the group of lady-friends, honouring the bride to be, took along photos of the loving birds from home to work with. Daniëlle actively encourages and gives advice, but most of all she gives each and every one the space they need to develop and realise own ideas. Again, I also find Limburg hospitality. Daniëlle has made it a habit serving Limburg flan and coffee halfway the workshop and for the two German ladies, who wished to continue their workshop for a few extra hours, she has got a lunch ready. At the end of this enjoyable workshop everyone can proudly take their own creations home!
Arrangement
Daniëlle also cooperates with several
Bed & Breakfasts in the area
, for those guests that would like to make a 'Voyage on Canvas' too!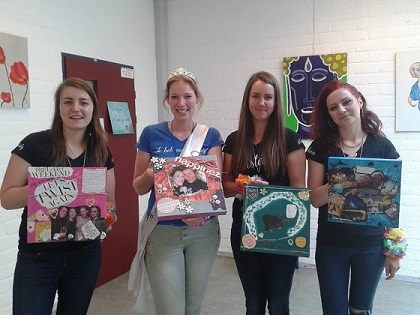 Multiply by sharing
Atelier Daan's new
mixed media course
will start in September and Werkplaats K organises open days, with a large exhibition and music performances, from 18 until 20 November:
Multiply by Sharing VII
. Everyone is welcome!
© Els van de Weg, August 2016